Crosswords for iPhone/iPad
Crosswords is free and comes with 40 puzzles!
Additional bundles are available as in-app purchases.
Purchase Crosswords Pro for just $9.99 and gain unlimited puzzle downloads!
System Requirements
Requires iOS 8.0 or greater. Downloading new puzzles requires an active connection to the internet via 3G, 4G, LTE or WiFi.
Have questions about Crosswords for iPhone/iPad? Find answers at the Crosswords for iPhone/iPad Frequently Asked Questions page!
Follow us on Twitter to be notified of the latest Crosswords updates!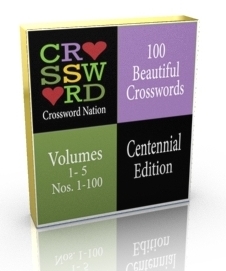 Crosswords improves on the award-winning Crosswords Classic, and brings crossword solving to the next generation of iOS users!
Download new daily puzzles from newspapers including King Features, the Independent, Newsday, and many more – including puzzles from providers that aren't available anywhere else! Crosswords also supports paid puzzle subscriptions, allowing you to download puzzles from secure websites directly to your iPhone or iPad.

Easily navigate each puzzle just as deftly as you would with a pen!

Our hints system allows you peek at clue letters (or the entire puzzle!) and look up hints from a variety of websites if you get stuck.

Not familiar with a word? View the definition via the in-game dictionary!

Our leader boards let you share your puzzle solving speed with other players!

Sync your puzzle progress between all of your devices, including iPads, Android phones and tablets, and Mac!
Crosswords is freely available via the App Store, and you can get unlimited puzzle downloads by upgrading to Crosswords Pro for only $9.99!
Have any additional question about Crosswords? Check out our Crosswords for iPhone/iPad FAQ, contact us via Get Satisfaction, fill out our support form or email us at sales@standalone.com.
v.3.59

- Current release version. Released on

April 18, 2017

. Cleaned up popovers in iPad puzzle selection. Fixed some voiceover problems with certain characters. Added Clear Errors back to Percentage Complete alert. Cleaned up online hint display. Fixed occasional crash when completing a puzzle. Fixed some issues when typing quickly.

v.3.52

- Released on

October 24, 2014

. This version fixes several bugs, including a leaderboard issue that could cause the app to hang.

v.3.51

- Released on

October 23, 2014

. This version improves iOS 8 support, including support for iPhone 6/6+.

v.3.5

- Released on

September 23, 2014

. This version adds preliminary iOS 8 support and features minor bug fixes.

v.3.3

- Released on

April 18, 2014

. Improved keyboard support, added social features, additional minor feature additions and bug fixes.

v.3.1

- Released on

December 08, 2013

. This version features background puzzle downloading, improved animation smoothing, minor UI tweaks and bug fixes.

v.3.03

- Released on

October 28, 2013

. This version features minor interface tweaks, new playing options, and minor bug fixes.

v.3.01

- Released on

September 27, 2013

. Initial iOS 7 release.